Driving Impressions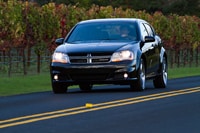 Wonderful suspension, cornering and ride. This is the area on the new Dodge Avenger where the engineers aced it. They retuned or redesigned virtually every part of the suspension for 2011. There's very little body roll, reduced vehicle motion, improved isolation, better steering precision and increased grip, thanks to wider tires.
The handling is light and responsive around town, making the Avenger a pleasure to drive. The ride is smooth, even over bad pavement.
We ran our Avenger at a spirited pace through a long climbing section of curves, and were impressed by how nicely it responded to steering input, even when we pushed it. On smooth curves it dove in with accuracy; and on choppy ones it stayed stable. Bumps don't upset the Avenger, it fends them off well. There's a point where the firm suspension could be firmer, but that point is beyond where most people ever drive. If you want to drive like that, the R/T is for you. But the R/T suspension isn't required for merely spirited driving, the everyday suspension works fine for that.
We haven't tested an R/T yet, so we can't say whether or not the suspension is too firm for a comfortable everyday ride over patchy freeways. Specifically, the R/T suspension increases roll stiffness by 18 percent, spring rates by 17 percent in front and 12 percent in rear, front strut damping rates by 15 percent, rear strut damping rates by 20 percent, and the rear stabilizer bar diameter from 19 mm to 21 mm. With its 283-horsepower V6, and its 260 pound-feet of torque, the R/T is something, especially with 19/29 mpg. Too bad there's no manual transmission, to make it feel like a muscle car for today's times.
The new 6-speed automatic is okay for everyday driving in Drive, but in manual mode on those uphill curves, it didn't respond like we had hoped. If the suspension makes the Avenger fun to drive, the programming in the new 6-speed automatic spoils some fun.
Shifting side-to-side with the lever, the 6-speed was all over the place, kicking down when we didn't want it to, not downshifting when we wanted it to. Ironically, Dodge invented manual automatic shifting in the 1995 Dodge Stratus, and back then it was totally true to the driver's commands. Now there are computer brains overruling the driver's desires and intent.
Around town, stay in Drive. In manual mode the computer seems to get confused, and starts snatching the transmission if you're not going fast enough, in 4th gear at least.
Around town, the upshifts are sharp. On the highway with your foot on the floor, the upshifts feel too slow, at 6500 rpm redline.
This all makes us wonder if maybe the 4-speed automatic in the low-dollar Express model might not be so much of a disadvantage after all. There would be fewer shifts to be bothered by, at least.
Our Avenger used the 2.4-liter four-cylinder PZEV engine, rated 20 city and 31 highway miles per gallon. The 2.4-liter engine feels athletic, like it's working hard but could work forever. Noise and vibration is well isolated from the cabin, as Dodge boasts, and the harder you run it, the smoother it gets. It pushes the midsize car briskly, more than fast enough to keep up. There are some 2.0-liter turbos in midsize cars that are faster, but those are turbos.
But we took the $25,800 Hyundai Sonata Hybrid on a small road trip, right after the Avenger, and came back thinking the slick Sonata could do everything the Avenger could, with better acceleration and a ride that felt just as smooth and quiet: a 75-mph road trip at 32 miles per gallon (rated 35 city 40 highway).
The Avenger brakes might be a weak point. The pedal feel is fine, but when we came back down our curvy mountain and used them hard, they didn't feel strong enough to encourage us to push them. No fade, because we didn't use them that hard, but the pedal didn't inspire confidence.
Don't expect great traction in winter. We pulled away from a stop uphill on gravel, and didn't get much traction, not even with standard traction control, so snow might be a challenge.